Commercial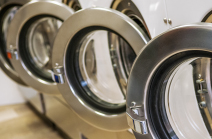 WashClub NYC picks up and delivers laundry and dry cleaning to businesses in both Manhattan and Brooklyn and our success is because of our one or two day turn-around time.
Our state-of-the-art laundry center in Brooklyn, New York spans across 10,000 square feet and features some 170 washing machines and dryers. We have dedicated and highly-trained staff specifically dealing with the washing of commercial laundry, such as heavy lotions and oils in towels. We have staff on premises around the clock and available to answer any questions you may have throughout the processing of your orders.
Our fleet of drivers will make sure your order is delivered on time, thanks to their years of experience dealing with traffic in New York City.
We work with both small and large commercial customers and we always strive to bring a personalized level of service to each one.
Some popular linen items we deal with are hand and bath towels, gym towels, massage sheets, yoga mats, floor and logo mats, salon robes and so much more.
WHAT IS O3 AND WHY IS IT GOOD FOR LINENS?
Ozone is "active oxygen", nature's special element each ozone molecule consists of three oxygen atoms.) Ozone injection system for laundry has the following benefits:
Clear environmental benefits: the use of ozone allows us to reduce our water consumption and heat energy, reducing our overall carbon footprint and yours in the process.


The oxidizing power of ozone in laundry water can eliminate one or two rinse cycles per load, resulting in water savings of 10 to 30 percent.


Improved washing efficacy and hygiene: It is a natural purifier, and an alternative water purifier to traditional chemicals such as chlorine. Because of ozone, a greater percentage of dirty linens can be cleaned with less water and less soaps and stain treatments than we previously used. It also leads to longer textile life! In short, Ozone destroys bacteria, viruses, mold and mildew, while eliminating body oils and other contaminants, leaving water (and your linens) clean and smelling fresh by removing past residual odors. Many stains that required scrubbing or pre-treating in the past will be eliminated completely by the ozone in the wash; the whites will be whiter, colors brighter and the linen softer!


Linen replacement savings: Ozone laundry systems increase linen life through shortened washing and drying times as well as lower heat and chemical usage. As a result of lower fabric breakdown and lint production, typical linen savings have been estimated at 15 to 50 percent.
We Service the Following Industries
Colleges & Schools
Salons & Spas
Health Clubs
Medical Offices
Country Clubs
& Many More!
WashClub NYC is committed to providing the most service options possible for business accounts. Whether you need to rent towels or have your own linens cleaned, WashClub NYC can help. This commitment is extended by setting up business accounts on a regular service and delivery schedule or on an as-needed basis. We offer pick up and delivery service Monday through Friday from 6:00AM through 6:00PM. Weekend service is available upon request.
Briefly describe your business account service needs by emailing us at support@washclubnyc.com. WashClub NYC will respond within 24-hours.
If you prefer, call WashClub NYC at (888) 920-1370 to discuss your laundry requirements now.